Lost Films is an initiative of the Deutsche Kinemathek – Museum für Film und Fernsehen, Berlin, funded by the Kulturstiftung des Bundes (German Federal Cultural Foundation).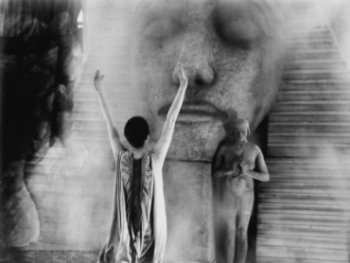 Still, DIE EWIGE NACHT, G 1914/15, Dir.: Urban Gad
Its purpose is to make visible the invisible portion of film history by acting as a collaboration platform for internet users to bring together relevant information and surviving documents concerning Lost Films.
The archive of titles currently contains over 3500 films believed or declared to be lost.
A constantly growing network of collaborators has been responsible for building up this archive.
Initial collaborators submitted almost 500 of these titles to a specially set up Wiki during the earliest stages of Lost Films' development.
Others, meanwhile, have been kind enough to allow Lost Films to reproduce information already published elsewhere.
The archive was specially developed using a new Open Source Software called CollectiveAccess.
Using this software, it is possible to supplement individual titles with detailed textual, photographic, audio and video information – all in a single, virtual space.
As an example, the Deutsche Kinemathek has personally illustrated 37 of the most sought after lost German films, carefully selected through consultation with renowned experts.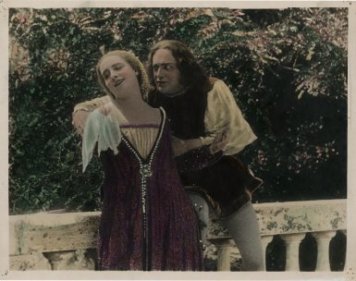 Coloured Still, DER FILM IM FILM, G 1924/25, Dir.: Friedrich Porges
The 6 partner institutions together submitted over 1500 surviving primary documents, which were then uploaded to the CollectiveAccess database and linked to the relevant film title(s).
Over 40 different document categories were assigned to the documents so that users would have the option to view the different document types separately.
Document types uploaded include surviving production records, such as scripts and set designs, as well as posters and other distribution materials, press items, censorship documents and music manuscripts. Also uploaded are numerous photographic stills and even in some cases digitised film clips.
An identify section, meanwhile, presents a selection of pictures and video clips of unidentified films for users to help identify.
All visitors to Lost Films are free to view its contents. However, members have the added benefit of being able to amend existing information, as well as to contribute additional information and documents.
Member contributions will assure the frequent and essential supply of the most up-to-date and accurate information.
All visitors to Lost Films are therefore encouraged to become members. Click here to register.